A WORK IN PROGRESS
By Autism Partnership: Ron Leaf, Ph.D. and John McEachin, Ph.D.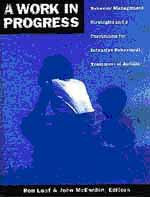 "The book seeks to 'provide a road map and enough detailed examples that people who work with autistic children might develop a good understanding of the [behavioral] teaching process.' . . . Several aspects of content and style make A Work in Progress a particularly compelling source for parent-professional partnerships. First, while the approach is clearly behavioral, Leaf and McEachin emphasize the value of an interdisciplinary approach and the importance of collaboration. Moreover, the clarity and pro-active style with which this manual is written invites its accessibility to a variety of readers who may be a part of the child's team at one level or another (e.g., teachers, therapists, and administrators as well as behavior analysts and parents). The authors take great care to address common misconceptions about intensive behavioral intervention by offering accurate information and examples in a non-inflammatory style."
CT FEAT Newsletter
"Budget-crunched school districts say that they cannot afford the immediate costs of such programs. That's where the likes of Ron Leaf come in with the idea of teaching teachers to apply ABA principles in a classroom setting. Leaf worked with Lovaas at UCLA in the 1970s. Now, he and psychologist John McEachin, PhD, who also worked with Lovaas, run a company called Autism Partnership, which provides in-home ABA therapy, but also works with more than 25 school districts to train teachers and administrators in ABA theory and techniques. Ideally, Leaf says, children should receive ABA therapy both at home and in school, where they can learn skills in a more natural setting and with more exposure to social situations."
APA Online
A Work In Progress is a two part manual that serves as a guide for any parent or professional working with Autistic children. The ABA based behavioral intervention strategies and the detailed curriculum focus on facilitating the child's development and helping him or her to achieve the highest level of independence and quality of life possible. The book has served as a launching pad for many parents in the beginning stages of diagnosis and has been used as the cornerstone of countless intervention programs, meeting with enormous success.
The first half of the book, entitled Behavioral Management and Teaching Strategies with Autistic Children, gives parents insights and methods for dealing with difficult behaviors and self-stimulation, aiding in the management and reduction of disruptive behavior. These beginning chapters also offer guidelines on how to address and manage sleep problems, toileting issues, eating problems, as well as how to incorporate social skills and playskills.
The second half of the book is a detailed curriculum entitled, Autism Partnership Curriculum for Discrete Trial Teaching with Autistic Children. This is a complete guide that provides step-by-step instructions as well as creative ideas on how to make learning a natural progression. Emphasis is placed on learning in different settings, the importance of learning age-appropriate skills, and creating a home program that emphasizes the joy of learning.
Soft Cover, 400 pages, c. 1999
Back