CALGARY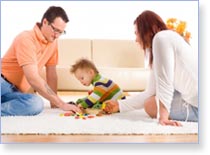 As our office is located in Calgary, we are able to provide a full service program (see below for the components of a full service program) for children between the ages of 18 months and 6 years. Typically, the full service program is accessed by children approved for funding through FSCD (Family Support for Children with Disabilities). Please note that we do not have a local full service program for school-aged children at this time.
We are also able to offer privately funded hourly consultations/parent training in certain situations; please contact us for more details about private services.
The full service model includes a combination of the following elements, depending on the needs of the child:
Coordination/Psychology Team
Each family is assigned a member of the Psychology Team to oversee the child's program. Members of the Psychology Team are involved on a consultative basis in terms of programming (skill acquisition as well as behaviour management), staff and parent training, and integrating the input from all members of the multi-disciplinary team. This service includes development of curriculum tailored to the needs of each individual child with an emphasis on development of language, play, social and cognitive skills as well as reduction of disruptive behaviours and behaviours which interfere with learning. Members of the Psychology Team provide case management in the form of consultation with parents and staff, regularly scheduled clinics or workshops, case conferences, parent support and training to ensure that progress is monitored and curriculum is developed as needed and implemented effectively.
Direct Therapy Sessions
Families in Calgary are provided with staff hired and trained by Autism Partnership. Program Specialists provide direct support to clients under the supervision of the multidisciplinary team and are responsible for implementing the goals included in the child's Program Plan. Discrete Trial data is collected and documented daily in the child's program binder.
Professional Services
Autism Partnership recognizes that there is often a need to utilize the expertise of professionals across disciplines who all share a compatible philosophy to the treatment of autism and adopt a behavioural model of teaching. In many instances, children who receive behavioural intervention services will also receive speech therapy, occupational therapy and/or physical therapy to address the various deficits effectively. In addition to the Coordination/Psychology Team described above, the team will consist of any of the following professionals (based on the child's specific challenges and needs): Psychologist, Speech-Language Pathologist, Occupational Therapist and Physical Therapist. Assessment by the above is a necessary part of our intake process, as well as a tool continually used to monitor progress and future goals.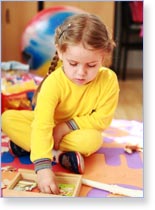 Director Consultation
Our Executive Director, Dr. John McEachin, visits Calgary and area to provide training to our staff and to oversee families involved in our program. Consultation sessions are conducted with the therapy team and parents at our clinic. This improves the quality of programs Autism Partnership provides and increases the level of support our Psychology Team receives.
Introductory ABA Workshop
Our Psychology Team conducts introductory workshops for all new staff and parents to Autism Partnership (other professionals are also welcome). Training includes an overview of autism, principles of Applied Behaviour Analysis, a description of various treatment programs, teaching techniques and a review of research findings. The emphasis of the workshop, however, is to provide participants with effective behavioural teaching strategies in terms of behavioural excesses and deficits associated with autism, functions of behaviour, proactive and reactive behaviour management strategies and reinforcement.
Clinics
Each child's multi-disciplinary treatment team meets with parents and program specialists for regularly-scheduled monthly clinics held at our office or at the client's home. Clinics allow for questions to be addressed, as well as for discussions concerning treatment progress, brainstorming, program evaluation and refinement, and continued hands-on and didactic training for the treatment team, including parents. These sessions include an observation of current programs and direct feedback to the treatment team. This is an essential part of treatment for every child.
Case Management Meetings
Each child's program is reviewed collaboratively with the Coordinator/Psychologist, Occupational Therapist, Speech Pathologist, and the Psychology Team on a monthly basis. This provides an opportunity to discuss child's progress/set backs, troubleshoot issues/concerns regarding family functioning, make changes to support and services being provided and responsibilities delegated to the Psychology Team, etc.
Mentoring/Consultations
Mentoring (or consultations) by Autism Partnership address both the emotional and skill issues of people with High Functioning Autism or Aspergers Syndrome. Sessions involve the client meeting one-to-one with Psychology Team members and working on specific social or behavioural skills. Some common focuses of the sessions include:
Social-communication skills training: conversation skills, understanding social etiquettes in different social settings, reading facial expressions, reading social cues, perspective taking, etc.
Stress management skills
Organization skills training
Social problem-solving skills
Anger management skills
Managing stigmatizing behaviours
Improving introspection skills
Understanding ones diagnosis
Identifying personal strengths and weaknesses
School Observation
We provide consultation to assist schools in the education of children with autism, utilizing empirically-validated and behaviourally-based methods. We emphasize practical, positive, and proactive approaches that have proven to be effective in advancing the educational progress of autistic children. Consultations typically involve developing a plan to facilitate a student's successful placement in the optimal educational setting. This includes identification of a student's educational needs and development of a specific intervention and teaching plan to meet these needs.
Community Observation
Members of the Psychology Team may observe the child in a community setting (Scouts/Guides, gym class, daycare, etc.), in order to make recommendations and/or train staff or instructors, as well as to identify future goals or current issues.
Play and Social Groups
A member of the Psychology Team may observe the child during social interactions with peers in order to make recommendations and/or train staff or parents. These groups can take the form of a playdate or social club.
Camp Interaction
Camp Interaction is a summer camp designed to teach social and behavioural skills to children with autism. Camp emphasizes giving children an opportunity to learn in a group Discrete Trial Teaching format and to develop observational learning skills as well as practice social skills in a supported setting. It also affords children the opportunity to both generalize skills developed in their home program as well as build on skills required for other group settings (i.e. school, sports teams). Content is dictated by the specific needs of the individuals in the group.
Parent Training
Parent training is an integral part of AP's model of service. When you are running a behavioural intervention program, parent training will be undertaken as a component of this service. Alternatively, we can meet with parents who do not have a home-based ABA program and provide practical training at your home, to help you manage behavioural challenges and teach your child new skills. Sessions are individualized to each parent and child and include areas such as toileting, eating problems, sleeping issues and developing skill areas such as compliance, speech and play skills.
Behaviour Therapy and Learning Centre (BTLC)
BTLC is a non-profit organization in Calgary (separate from Autism Partnership but involving many of the same staff) that offers educational programming designed to meet the unique needs of children with autism and other developmental disabilities. We offer a comprehensive specialized preschool program as well as opportunities for children to be integrated within regular community preschool or Kindergarten classrooms. For more information on BTLC, please visit www.btlc.ca or call 403-205-2749.