A WORK IN PROGRESS: Spanish Edition
By Autism Partnership: Ron Leaf, Ph.D. and John McEachin, Ph.D.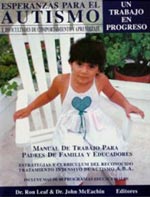 This is a complete curriculum that provides actual lessons with step-by-step instructions as well as creative ideas on how to make learning a natural progression. The curriculum covers the following areas: block imitation; motor skills; play; receptive labels; expressive labeling; emotions; functions; categories; prepositions; same vs. different; verb tenses; sequencing; peer interaction; cause and effect; along with many others. Emphasis is placed on learning in different settings, the importance of acquiring age appropriate skills and creating a home program that emphasizes the joy of learning.
In addition, there are seven appendices covering Curriculum Assessment, Daily Data Summary, Discrete Trial Data, Overview of Programs, Performance Evaluation, Program Description and Tracking Forms. These charts and lists are invaluable tools for keeping accurate data. This book is a wonderful resource for anyone who is facilitating a childs development and is looking to help him or her achieve the highest level of independence and quality of life possible.
Soft Cover, 400 pages, c. 1999
Back