CRAFTING CONNECTIONS
By Autism Partnership: Mitchell Taubman, Ph.D., Ron Leaf, Ph.D., and John McEachin, Ph.D.
With contributing chapters by: Marlene Driscoll, M.A. MFT, B.J. Freeman, Ph.D., Alyne Kuyumjian, M.S., Justin Leaf, M.A., Karen McKinnon, M.A., Tracee Parker, Ph.D., Julia Peacock, M.S., Jon Rafuse, M.A., Julide Saltuklaroglu and Andrea Waks, J.D.D.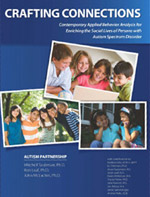 "One of the most comprehensive and easy-to-use guides available for teaching social skills to children and youth with autism spectrum disorders. A valuable resource for teachers, clinicians, and families!"
Tristram Smith, Ph.D., Associate Professor of Pediatrics, University of Rochester Medical Center
"This is a terrific addition to the information available on how to teach social skills. The authors have outlined ways to teach social skills in social awareness, social communication, social interaction, social learning, and social relatedness."
Mary Jane Weiss, Ph.D., Director of Research and Training, The McCarton School
Written by a team of renowned professionals, this guide highlights skill development in clear and behavioral frameworks, and provides parents and teachers with a wealth of information regarding goals and strategies. Sub-skills, prerequisites, and methods of instruction are outlined for each area in a methodical, easy-to-read manner.
The book is practical in that it addresses real world issues such as teasing and bullying, conversational development, and social comprehension. Most individuals with ASD have substantial social challenges. Many receive good and thorough intervention in various areas of the curriculum, but few receive excellent instruction in social skills. This book will increase the quality of social skill instruction offered to learners on the spectrum.
Back